The Spanish Research Council is offering a permanent position on "Quantum Technologies, Quantum Information and Quantum Computation" (Position #97 in the list). The candidate will become part of the Institute of Fundamental Physics and may join our group and the CSIC Quantum Technologies Platform.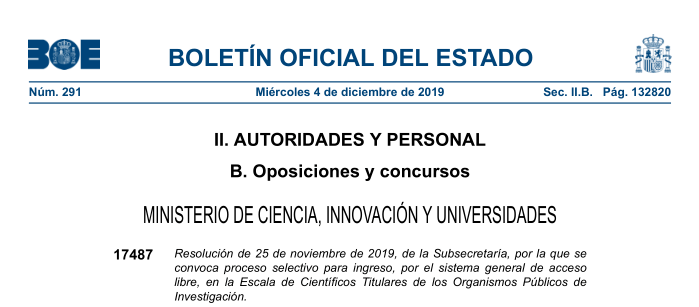 The official announcement opens the period of application, which closes very early in January (20 working days after publication of the call).
Applications should be done through the official application portal, followed by the submission of the documentation to the Registry of CSIC (calle Serrano, 117 28006 Madrid). You can attach all required files to your application through this application. Further instructions may be found in CSIC's job portal and in the call.
If you cannot use the online system for submitting the application, you may still generate the documentation through the portal, pay the fees by bank transfer and provide the application, a certificate of the transfer, plus an USB with the requested files, at a Spanish consulate or embassy.
These are the basic requisites:
Because this is a civil servant position, candidates must have EU nationality, be married to an EU citizen or have permanent legal residence in Spain.
The initial application must contain a CV and a scanned copy of the PhD certificate. As mentioned above, they must be either attached to the online application, or submitted in a USB together with the 790 form and the certificate of the bank transfer.
Unfortunately, there is an administrative block regarding the PhD. Titles from Spanish universities are accepted as they are. PhD's from foreign universities must have an "equivalence" certificate or been "homologated" by a Spanish university- — a paperwork that takes two to three months to complete.
Note that in the electronic portal the position number is different from the one that appears in the electronic bulletin

If you are interested or have questions, you may contact us for help.