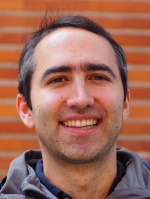 Juan de la Cierva Postdoctoral Fellow
PhD in Physics, University of Innsbruck, Austria (2016).
MSc in Physics, University of Concepción, Chile (2011).
Scientific interests
Quantum optics
Quantum information and technology
Open quantum many-body physics
Classical and quantum noise
Nanophotonics
Superconducting circuits
Atomic, molecular, and optical (AMO) physics
Talks and Outreach
Some of my latest talks and the outreach activity "The power of light" available on YouTube.
Preprints
L. Pereira, J.J. García-Ripoll, T. Ramos, "Parallel QND measurement tomography of multi-qubit quantum devices", arXiv:2204.10336 (2022).
A. Gómez-León, T. Ramos, A. González-Tudela, D. Porras, "Bridging the gap between topological non-Hermitian physics and open quantum systems", arXiv:2109.10930 (2021).
L. Pereira, J.J. García-Ripoll, T. Ramos, "Complete physical characterization of QND measurements via tomography", arXiv:2109.06616 (2021).
M. Li, J.J. García-Ripoll, T. Ramos, "Scalable multiphoton generation from cavity-synchronized single-photon sources", arXiv:2009.02382 (2020).
Selected publications